Press
Smokey Tango is slated for worldwide release on September 16, 2022 
By: Blue Heart Records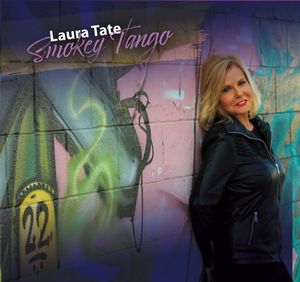 MEMPHIS, Tenn. - July 29, 2022 - PRLog -- Blue Heart Records is pleased to announce the signing of singer and actress Laura Tate. With a heart as big as Texas and a passion for singing that goes back to her childhood in Dallas, Tate's musical talent took her to Nashville and New York City, before she settled in Los Angeles and added television acting to her music career. Today Laura lives in El Paso, a unique and vibrant community at the edge of Texas, New Mexico, and the state of Chihuahua. Well-known for her volunteer work, Laura received the President's Volunteer Service Award from both President George W. Bush and President Barack Obama. 
Tate's sixth album, Smokey Tango, takes the listener on a captivating journey through the lush landscape of the South and the swamplands of Louisiana. From visions of tuxedoed dancers twirling under a canopy of stars, to table-top juke joint jumpin' in the Quarter, aural surprises excite and inspire throughout the 12 tracks. Produced by Terry Wilson and featuring a stellar band of Rhythm Tramps musicians, including Terry and GRAMMY-nominated Teresa James, the music of Smokey Tango is a dance you don't want to sit out 
"Having worked with Laura on her previous opus, Live From El Paso, I am delighted she has joined the Blue Heart family," says Betsie Brown, label partner. "Laura is an excellent fit for our label; not only is she an accomplished artist, but she is also passionate about her causes." 
"I'm over the moon as I am honored to be represented and working with Sallie Bengtson, Betsie Brown and the Blue Heart Records team. Awe-inspiring producer and musician Terry Wilson led the creation of this fun-loving record featuring a star-studded cast of musicians. His wife, Teresa James, is always generous with her talent, advice and direction, and I have learned so much working with the dynamic "T & T" duo since 2015.  Can't wait to share the music of Smokey Tango with the world," says Laura Tate. 
Album preorders begin on August 19. For additional information, visit www.musicbylauratate.com and follow on Facebook @artistlauratate and Instagram @lauratatemusic. 
"With all the bases covered musically, Laura is free to pour herself heart and soul into what she does best. Whether it is soulful ballads, country love songs, rock and roll or torch songs that melt clear to the deepest part of your heart, she does it all and does it with power and a deep-felt passion." ~Reflections In Blue 
Contact 
Blind Raccoon 
***@blindraccoon.com 
Photo: 
https://www.prlog.org/12927123/1 
"Laura and her band of top Los Angeles-area musicians take us on tour of the ups and downs of love from sultry torch songs to tough love ballads. With crowd favorites from her previous four Albums, this "Best of Laura Tate" collection moves smoothly from jazz and blues to rock and Americana ..." 
Valley Scene Magazine, April 16 - 29, 2021, Volume 22 No. 11, pg. 13